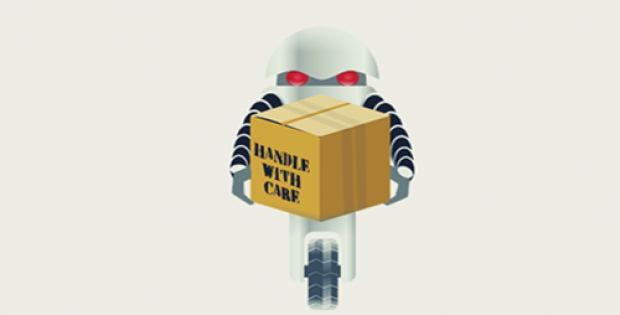 Last mile of delivery costs nearly 50% of total package delivery and companies are looking to bring down this cost.
FedEx Corp, the international courier delivery service provider, has been reported to be planning to test a robot that delivers goods to consumer doorsteps. FedEx will be offering these robots to partners ranging from Pizza Hut to Walmart.
Robots, drones and self-driving cars have found greater demand among shippers, retailers and restaurants for driving down the high cost of delivery.
For this project FedEx is reported to collaborate with DEKA Development & Research Corp which was founded by Dean Kamen, notably, the inventor of iBot stair-climbing wheelchair and Segway stand-up scooter. The delivery company plans to make the robots a part of their SameDay service that operates in 1,900 cities around the world.
The battery-powered robots are guided by cameras and software and travel at a top speed of 10 miles per hour. The project is due for approval before it can be launched in test cities and first deliveries are reported to be occurring between FedEx office stores.
For the record, nearly 60% of merchants' customers live within 3 miles of a store location. Sources close to the matter say that FedEx is working with its partners like Target Corp and AutoZone Inc to ascertain whether autonomous delivery is a viable option for cheaper deliveries.
It should be noted that the last mile of delivery costs nearly 50% of total package delivery. Third-party delivery companies such as GrubHub, DoorDash and UberEats earn 10-30 percent per order from restaurants. Millions of dollars are being poured by investors and companies into projects aimed at lowering such costs. However, many states are urging for emergency backup human drivers to be present with autonomous vehicles.
UPS Inc., a rival to FedEx, is experimenting with drone deliveries, a model which is also being experimented with by Amazon. Other companies like Kroger Co, the grocery seller, has launched tests with self-driving car startup Nuro while General Motors Co's Cruise Automation has tied up with DoorDash.